Ever wonder why the Louisiana Museum of Modern #Art is in #Denmark? http://t.co/eITNfwWiLh #ttot

July 01, 2013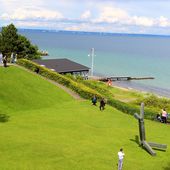 Why is the Louisiana Museum of Modern Art in Denmark?
I love museums, and I have a memory from a couple of years ago (in my pre-blogging existence) of reading a travel magazine (have Googled this article to no avail) and seeing beautiful photos of the L ouisiana Museum of Modern Art. I can recall thinking, I'd really love to go there.